The bicycle platform on tour
Development of the bicycle platform
More and more often, the bicycle is a good alternative to the car. The amount of traffic jams is increasing and in cities the car is often a serious obstruction. Moreover, cycling is environmentally friendly. If more and more people opt for the bicycle, parking spaces for cars can probably be exchanged for bicycle parking spaces. To test this, we have developed a so-called "bicycle platform".
Fietsvlonders.nl is the exclusive producer and supplier of the well-known bicycle platforms.
You can request a quote here. If you indicate your wishes regarding numbers, desired dimensions, choice of materials and any specific wishes, you will receive our offer as soon as possible.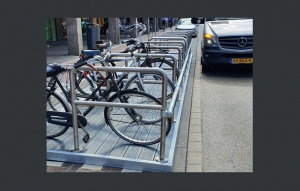 Car makes place for the bike?
You can test whether there is a need for bicycle parking instead of parking for cars by temporarily installing a bicycle platform. People give their opinion during this trial period. After making an inventory of the various findings, you can take the plunge: should the car make way for the bicycle? The street work is adjusted and permanent bicycle racks are fitted. You move the bicycle platform to a new location and testing can begin again.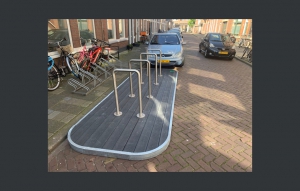 Your wish is our challenge
The appearance of the bicycle platform is determined by you. You choose the dimensions and design of the platform. You also choose the color of the recycled plastic decking boards.
The bicycle railings can be supplied as desired. For example, you can opt for stainless steel, galvanized steel or colored bicycle railings. The bicycle platforms can, if desired, be supplied with ramps or with posts on the ends. Usually 10 bicycles can be parked on one bicycle platform.
The delivery time depends on your choice of material and the desired quantity. Normally our delivery time is approximately 4 weeks after written order.
Due to the various amount of options you can request a quote from us without obligations.
You will receive this quote normally within a week.
Choice of material and dimensions